Come and experience the Momentum.
Momentum is the theme of our 2018 European Social Retail Conference (SRC) to be held at the Radisson Blu Royal Hotel in Brussels on 27th/28th January 2018. It is an appropriate theme too at a time when the Modere phenomenon is picking up momentum around the world. Europe is no exception. We're seeing exciting growth and would love you to join us as we roll out our 2018 plan. The SRC enables you to join our Leaders, other Social Marketers and special guests for two inspirational days as we shine the spotlight on the industry, the Modere model and our market growth.
The venue
The Radisson Blu Royal Hotel is located in the center of Brussels and is just minutes from top attractions. You can take a leisurely stroll to the Grand Place, the Royal Palace, the Magritte Museum and many other cultural attractions from the hotel. Browse the city's famous chocolate shops or step out in the evening to experience the local nightlife.
Getting there
Nearby transport
Central Station rail and metro – 400 m (Speedy connections to Brussels Airport)
Midi Station rail and metro – 2 km (Thalys and Eurostar terminals)
From Brussels Airport
The train is the fastest option from Brussels Airport to the centre of town. Airport Express trains depart every 15 minutes and take only 20 minutes to reach Brussels Central Station (Gare Centrale), which is just a few hundred meters from the Radisson Blu Royal.
From South Station (Gare du Midi – Zuidstation)
From South Station, trams depart every 10 minutes and take only 10 minutes to reach De Brouckère Station or Central Station. Take Tram 3 (direction Esplanade) or Tram 4 (direction Gare du Nord) and disembark at Central Station or De Brouckère. The Radisson Blu Royal is a short walk from either station.
Take the Metro or the Bus
The De Brouckère and Central Station stops are only a few hundred meters away. Another convenient option is the Arenberg public bus, which stops next to the Radisson Blu Royal main entrance.
Need more information? You can check out national and international rail services and airport information below:
Belgian Rail
Thalys
Eurostar
SNCF
Rail Europe
Brussels Airport (BRU)
Coming by car?
There is parking at the hotel charged at 5€/hour or 35€/24 hours. Alternatively, you can park at the Interparking Ecuyer, which is situated 300m from the hotel and which costs 2.40€/hour or 14.90€/day and if you book in advance you can save money and only pay 9€/day.
Need a place to stay?
It's easiest of course to stay on site at the Radisson Blu Royal, but of course rooms are subject to availability. We suggest you contact the hotel directly to check availability and for any special promotions. Alternatively see these booking sites to find an alternative nearby:
Trivago
Booking.com
Programme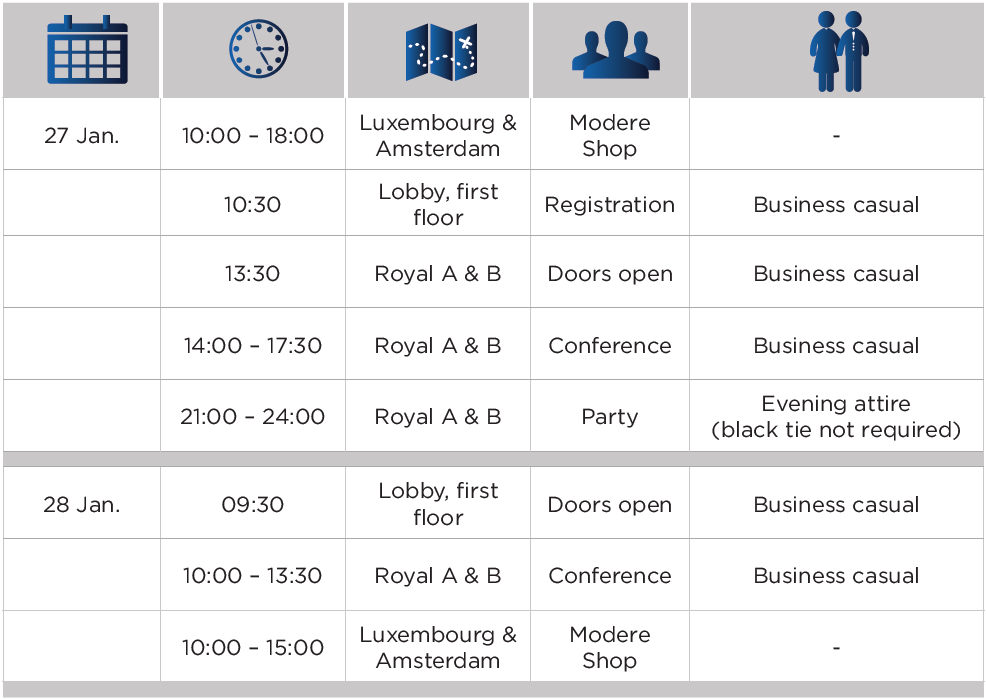 I'm going to the SRC 2018 and I'm taking…
Whilst we look forward to celebrating together at the SRC in Brussels, let's also take the time to think of those who may need a little extra help at this time of year.
Can you squeeze a little extra item of clothing into your luggage?  Preferably something snuggly and warm that you won't be taking home with you….
We will be accepting clothing donations for the asbl Chez Nous-Bij Ons vzw charity, which provides shelter, clothing and other support for the homeless in Brussels.  Spare your thoughts and then spare an item you simply don't need any more.  All items are most gratefully received, and everything gets used.
Stay up to date
Keep an eye on the Shifting Retail Facebook and Twitter pages, as we will be posting regular important updates on the event.
#SRC2018BXL